CICSA lifting chains, as well as fittings, are made of alloy steel of the highest quality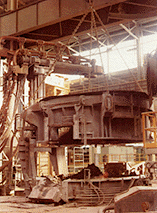 CICSA lifting chains and fittings for lifting are manufactured according to the international ISO 3076-3056-4778-7593, to the European EN 818-1/2/4 and to the DIN 5687-5688 standards.
Lifting chains and fittings are made of alloy steel of the highest quality, exceeding the minimum characteristics prescribed by the standards.
CICSA chains and fittings for lifting are characterized by the following features:
lighter weight compared to common steel chains thanks to their mechanical characteristics allowing reduced diameters;
excellent resistance to dynamic loads and to stress and fatigue;
longer durability thanks to the excellent wear resistance (average hardness: 38 HRC);
full loading capacity between -40°C and +200°C without working load limit reduction;
absolute safety and total guarantee of quality thanks to the very rigorous controls applied to the work process and the products and thanks to the advanced technology.
Working load limit
The working load limit is the maximum load to which lifting chains and fittings can be submitted during the work process. It depends on the safety standards applied in the customer's country. According to the international EN, ISO and DIN standards, the ratio between the guaranteed minimum breaking force and the working load limit for lifting chains is 4.
Manufacturing proof force
it is the load at which the whole chain is tested and corresponds to 60% of the minimum breaking force; according to EN, ISO and DIN standards, its value is about 2.5 times the working load limit.
Minimum breaking force
it is the minimum force the chain must sustain during the tensile test until breaking. The minimum elongation at breaking (permanent deformation percentage) is 20%.
Bending test
Lifting chains and links for lifting are submitted to bending tests carried out according to EN 818-2 standards.
Identification
CICSA lifting chains are marked with "C"or with "CICSA" (depending on the dimension of the chain) and with "8" on the unwelded side of the chain, indicating respectively the manufacturer and the resistance class (EN, DIN, ISO 8).
Besides, a special octagonal metal tag on each sling indicates:
the CICSA mark;
the number of sling legs (1 for single legged chain strands);
the chain diameter in mm;
the working load limit in tons, related to the working angle if necessary (multiple leg slings);
the traceability code;
the prescribed EC mark (according to the Machinery Directive).