CICSA individual teeth for toothed wheels for submerged scraper conveyor chains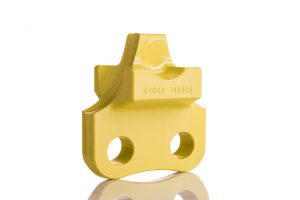 Teeth for manufacturing toothed wheels for chain conveyors with CICSA chains LH and MH and special couplings GZ and chain shackles TD. They allow use of chain with couplings GZ or TD.
Teeth are made of NiCrMo alloy steel, with carburized case hardening for best performance and high wear resistance. Easy assembly and disassembly on the wheels with bolts and nuts. The screw to be inserted in both holes is made of highly resistant alloy steel (at least quality 10.9 UNI EN ISO 898); it is specially manufactured with strict dimensional tolerances according to DIN 609.
Contact CICSA for the tightening torque to be applied.
Teeth can be supplied with different hole positioning (size E). This allows the possibility to increase the wheel pitch line diameter of the wheel and to work with worn chains (for remarkably increased chain pitch over the nominal size), thus extending the useful life of the chain. The adjustment of the pitch is attained with radial shifting of the teeth up to 20 mm, depending on the size of the chain and on the number of the teeth of the wheel.