CICSA chain shackles TD for chain conveyors are used with chain ends DIN 764 or CICSA chains MH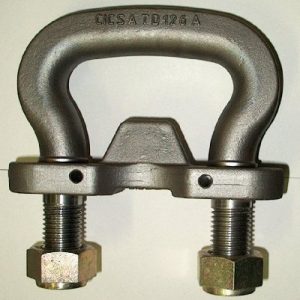 Chain shackles TD, suitable for chain conveyors, should be used with
chain ends DIN 764
or
, in some sizes, with CICSA 
chains MH
. The special locking plate and the robust and highly precise construction lead these chain shackles to maximum tensile strength and to a very high resistance to fatigue.
They work as chain couplings and may be used as scraper or bucket attachments.
Chain shackles TD run horizontally over toothed wheels and one-piece plain wheels or vertically over pocket wheels.
Their main characteristics are:
Forged with CrMo or NiCrMo alloy steels;
Quenched and hardened in the area of contact with the chain for type 3HS (induction hardening);
Highly wear resistant;
Easy assembly: the closing plate is fixed by means of two spring pins. The shackle is then closed with self-locking nuts.
Chain shackles TD are also available with patented C-Hard® treatment, that provides maximum resistance to wear and tear.